Hello, I am introducing myself to you as the Department for Education senior security advisor (SSA).
I joined the Civil Service in January 2018 and have the privilege of being the first ever SSA appointed in Government. Prior to joining the Civil Service I was a police officer where I commanded at a Gold level numerous firearms incidents, counter terrorism and public order operations. I have also served as Director of the UK police counter terrorism protective security training programme. One of my few claims to fame is that I worked on the R&D programme and wrote the business case to procure the hostile vehicle mitigation barriers that you see around London and elsewhere! 
I joined the Civil Service as I was truly excited by the opportunity to help shape and deliver transformational change into how government security is managed and delivered. In my opinion there has never been a better time to join the newly formed security profession, which now has so many more opportunities for us to provide better security outcomes. 
It's been fascinating getting to know my department, working across government and getting to know the many fabulous people working within government security at all levels, as well as adjusting to a new culture and new ways of working, and I really enjoyed chairing the cross government Senior Security Advisors forum, which is forging a more collaborative culture across government security.  
My passion and drive within policing was to keep the public and our country safe and that motivation continues in my new role. I want to help create a secure and safe environment so that government staff, information, assets and buildings are as secure as they can be from a variety of different threats. My teams ethos is to 'Protect to Enable', in other words we protect government so that they can deliver better outcomes for the public. 
There is no typical day in the life of an SSA! I tend to spend most of my time briefing and advising our Board, working with Cluster 2 to agree service levels and working with my team to deliver the high level security outcomes that were set at the conclusion of last year's Departmental Security Health Check, which principally involve trying to improve the overall security culture of my Department. I often get asked by staff 'what can I do to assist?' and my answer is often the same, which is to do the basics well and observe good security behaviours; Wear your pass inside but not outside, lock your computer when you aren't using it, look after sensitive information, be vigilant and alert and report anything suspicious. 
When I am not doing this I'm dealing with some of the day to day issues, approving travel requests, reviewing security threats and investigating breaches. As you would expect I sit on a variety of cross government security boards and meetings but I also try hard to visit our staff and my team who are based at 15 locations across the country and see what I can do to keep them safe. 
Of course there have been some challenges to this, but thankfully I have the full support of the board which has allowed me to invest in a number of areas, such as equipping my department with ROSA and getting agreement to increase vetting levels across my department. 
My proudest moment to date was attending the first Government Security Symposium and my security team picking up the 'Best Team Award', which I think was recognition for the improvement the team has made in the last 12 months.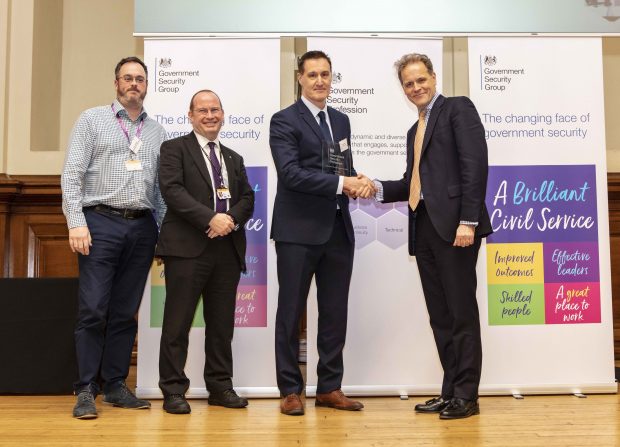 Lawrence Hobbs