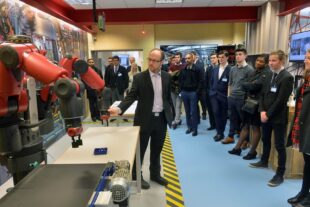 Hi, my name's Mohammed Mumin. I'm a Cyber Security apprentice and I'd like to tell you about our recent trip to the BT research centre.
Being someone raised strictly in the city it was nice to have the opportunity to see the rural beauty of Ipswich. The two-day event at Adastral Park was a unique chance to gain an insight into how one of the Civil Service's closest business partner works. We left with knowledge in many areas ranging from new concepts, threats to cyber and how BT operates.
Home to BT Research, Adastral Park also hosts around 70 High-Tech companies including big names such as Cisco, o2 and Fujitsu. We were given a showcase of some of the joint collaborations going on such as how the 'Internet of things' is starting to shape 'Smart homes'.
A key focus for many of the speakers during the two days was BT's innovative solution for the fight against Cyber-attacks using a platform called 'Assure Cyber'. BT Assure Cyber is able to crunch 'big data' sets to detect patterns and problems, graphically outputting the results making it easier to analyse. Selected government agencies are starting to incorporate it within their capabilities and it's easy to see why.
Some of the key IT concepts raised were Artificial Intelligence and Quantum Key distribution; two concepts that seem extremely foreign however aided by experts in the field we came out with a better understanding as to how imminent and important they are.
I enjoyed being able to network with BT apprentices; it was made clear they have quite a good apprenticeship programme but at the same time it helped me reflect on how lucky I am to be on CSFTA which really helps us broaden our cyber security horizons.