The average UK household owned 7.4 internet devices*, in 2016. As our connectivity continues to grow, how is government managing increasing risks in cyber security?
The Government's security profession is helping tackle this by building skills across government and driving recruitment for a significant number of apprentices.
The apprentices will help make a difference in government by protecting data and digital information from cyber crime, and by ensuring we have a strong talent pipeline for the future.
Will Turnbull works for Civil Nuclear as a cyber security policy adviser. After leaving university he had a brief spell working as a commercial analyst for a large airline, before deciding to apply for the Civil Service Fast Stream programme.
"I wanted a career that allowed me to help others and give back to society, and I found the Fast Stream model really appealing.
"The programme provides opportunities to move around departments and roles, helping you work out what areas interest you, while building up a good breadth of experience."
Will originally intended on working for the Department of Energy and Climate Change (DECC), as he had a keen interest in energy generation and climate science. But after learning about government's cyber security careers, he was pleased about his placement in a policy role at Civil Nuclear.
"My new team were aware that I was joining from a non-cyber background and gave me a lot of time and support to get up to speed.
"There is a lot of sector-specific language and acronyms, which can be off-putting for someone who is new to the area. But, I took an online course from the open university and spent a couple of days doing a lot of reading which really helped prepare me for my new role."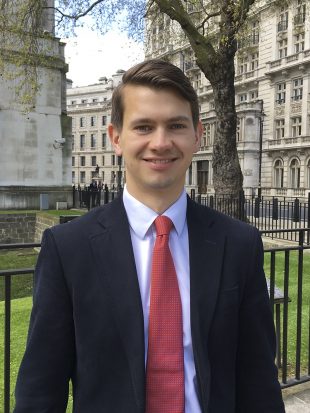 Early into his new post, Will was given the opportunity to learn from international experts, helping bring a new perspective to his understanding of cyber security.
"I attended a workshop that was delivered as part of a commitment made at the US-UK Nuclear Security Summit in Washington, March 2016.
"This was a great opportunity for me to learn about the scale of the challenges we face – not just domestically, but also abroad. This was brought to life by demonstrations of cyber attacks on industrial control systems that are used in nuclear power stations."
As an emerging specialist and leader in cyber security, Will reflects on the challenges faced within his sector and in government.
"Fundamentally, there is a growing need for a cultural shift in our collective understanding. Cyber has a bit of an image problem and is generally viewed as the 'dark art of the digital age', so people tend to shy away from it as a result. In government, we're trying to overcome this and help change mind-sets."
For those considering a role in cyber security, Will had a clear and encouraging message.
"The digital age offers great opportunities, but also great risks. The importance of maintaining cyber security is only going to become more significant in the future.
"So, if you're interested in working in a sector that's high-profile, fast paced and constantly evolving, then a career or apprenticeship in cyber is a great place to start."
For more details about government's cyber apprenticeship programme, visit Civil Service Jobs.
* YouGov surveyed 2,090 adults online between 16 and 17 March 2016