Government Security is proud of all our #apprentices and are delighted to support the government's campaign #NAW2020. 
The 13th annual National Apprenticeship Week officially kicks off today, which will run until 9th February 2020. National Apprenticeship Week is an annual week-long celebration of apprenticeships across England and is a time to recognise and applaud apprenticeship success stories across the country.
In celebration of #NAW2020 we turn the spotlight on two of our cyber security apprentices; Lydia and Kishen. They are building their career at the forefront of new technologies completing a two cyber security apprenticeship in the Digital, Data and Technology (DDaT) team at the Department for International Trade (DIT). Head over to the DIT blog page here and read about their personal career journey and experience to date.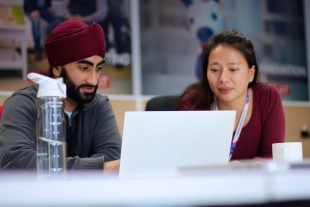 Apprenticeships are an excellent way of creating entry into our profession. They bring in highly motivated people and are a great way to build a talent of pipeline. Government Security currently has over 70 cybersecurity apprentices across 20 government departments, with a fresh cohort due to start next month.
Apprenticeships are different, you get to learn and earn, trained up by the people you work with. And all your training is paid for, so you're shaping your career from day one. Apprentices are making a difference. At thousands of different companies, large and small, all over the country. Right now. So whoever you are, whatever your background – your new career could be out there. What are you waiting for? Fire It Up. For information on how you can benefit from hiring #apprentices visit: www.apprenticeships.gov.uk #FireItUp
Watch out for our blog post coming in March, to hear how we celebrate apprentices at our annual apprenticeship conference.
Curious about starting a career in Government Security? Visit the Working in Security page. Find out more about the work of DIT on https://digitaltrade.blog.gov.uk/