Government Security is one of the newest functions in government. Daljinder Mattu, Head of Engagement for the Government Security Profession shares information about how you can find out more about developing your career as part of a brilliant Civil Service...
Government Security is led by
Dominic Fortescue, Government Chief Security Officer
, it
has the overall vision of enabling the government to protect itself and UK citizens at home and overseas, providing vital public services by understanding and managing security risks. 
The aim of the Government Security Profession is to 'create a world-leading and dynamic Government Security Profession which enables and inspires our security professionals, while building a diverse, inclusive and thriving security community.'
In order to achieve our aim, over the last year we have collaborated with Departments, Arms Length Bodies and National Technical Authorities to build the professional building blocks that will allow us to attract, develop and retain the high-quality security professionals we need in Government Security. To date, it really has been an exciting step forward. 
Key to this has been the new career framework, which was published on 13 February 2020 and unveiled at the Government Security Conference & Awards. The framework is the first of its kind as an essential guide to support development, build expertise and support broader careers across government by enabling people to align to one or more of the critical 46 security roles.  The framework can be used as a basis for career conversations with line managers, plan how staff can access learning and development opportunities, and role descriptions can be used to form the basis of job descriptions when recruiting.
We held extensive consultations involving subject matter experts to transform‌ ‌the‌ ‌way‌ ‌the‌ ‌government‌ ‌does‌ ‌security‌. Defining distinct‌ career ‌pathways‌ ‌for‌ ‌progression‌ ‌across‌ four security ‌specialisms (cyber, physical, technical and personnel) and corporate enablers, illustrating internal‌ ‌and‌ ‌external‌ ‌routes‌ ‌into‌‌ the‌ ‌profession, with‌ ‌information‌ ‌on‌ ‌‌increasing‌ skills‌, raising standards and development‌ ‌opportunities‌.  
One of the most important things about being a profession is that you are part of a community. Our aim was to create a sense of belonging by using common language across technical specialisms to break down barriers, reduce silo working and inspire people to see themselves as part of a wider and diverse community.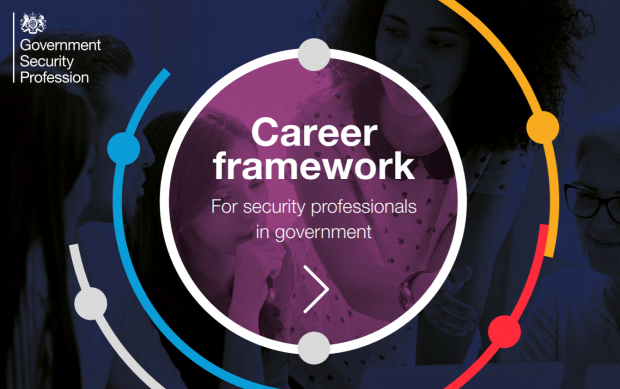 The career framework is very much the start of an exciting journey for the Government Security Profession. Linked to this will be a comprehensive professionalisation offer during 2020. This includes learning, mentoring, industry exchanges and professional accreditation, starting with The Security Institute. This will be launched with a digital skills assessment tool during 2020/21, allowing individuals to benchmark their skills and link to the learning all in one place.We will continue to raise awareness of the profession and hope to see you at CYBERUK in spring and Civil Service Live during the summer.
Still curious? Find out more about who we are are, our plans and how we can help you: