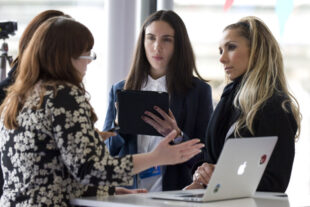 Welcome to the new Security and Diversity blog! A space to shine a light on the work of women in the security field. The aim is to share knowledge, experience and air diversity issues related to the world of security, in the civil service and beyond.
There is an exciting conversation about diversity going on in the civil service right now. From the new appointment of Melanie Dawes as Gender Champion for the Civil Service, to the noise around the Hay Group Report, Women in Whitehall: culture, leadership, talent and the positive steps that individual departments like BIS are taking to improve diversity. Diversity is on the agenda.
Similarly, security issues are a permanent fixture in everyday news and politics. Whether it is the Cabinet Office adoption of new technologies, flooding, or the horrific attacks in Paris and Nigeria, these issues are of crucial importance to the UK and the UK Civil Service. These events may not seem connected to diversity issues, but conversations about diversity and security are very much linked.
What do we mean when we talk about security?
'Security' refers to an extremely broad range of protections that the UK Government uses to protect people, buildings, information and includes the law enforcement agencies and security policy formation. Such a catch-all term naturally entails a hugely diverse range of roles. Such a diversity of roles requires diverse talent.
Maximising diverse talent directly influences our ability to predict and respond to events, rapidly shifting demands and our ability to manage change as a result of these watershed moments. What does a genuine commitment to a truly diverse workforce practically mean? We shouldn't fear the productive tension that can come about from the interplay of different skills, talents, backgrounds and perspectives. This tension means better decision making and the creation of more effective polices. In the security world, where the stakes are so high and the issues are of critical importance, it is even more necessary.
Opening up the debate
Walking into security meetings, you can usually count the number of women on 1 hand or even with 1 finger. Why is security still such a male-dominated environment? Why are women so under-represented in technical roles? What can we do to encourage a more open conversation about diversity in the security profession? This blog will ask questions (hopefully the right ones!) and take opinions from people in the full spectrum of security roles, from police, to the military and policy professionals in the heart of Whitehall. The focus is to contribute to the conversation about culture, perceptions, leadership, talent and diversity, all with a security slant.
Opening up security will ensure that the people working on how to best protect the UK, its people, government and resources reflect the population they serve.
Tune in for the next blog from Dr Liane Saunders, Acting Deputy National Security Advisor, for her unique insights on diversity and national security.