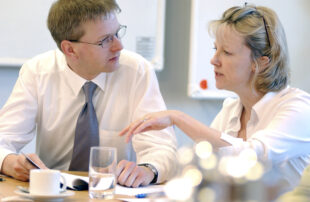 In my first blog of 2018, I'd like to start by wishing you all a very Happy New Year. The first month has flown by and I'm sure this is going to be a busy and exciting year for the Government Security Profession. With the Government Security Profession Unit (GSPU) up and running, it's going to be full steam ahead. Keep reading if you'd like to know more about what we've got planned for 2018.
We are going to run an events programme for the government security community, starting in the spring. As part of this we will be reaching out to identify who is in the security profession/community, and what your expectations might be of membership. If you have any thoughts on this now or any ideas about what you'd like to see at our events, please do let me know by commenting below.
In terms of recruitment and careers, I'm very pleased to say that we will be running the Cyber Security Technologist Apprenticeship Programme again for the 2018/2019 cycle, and exploring opportunities with DCMS to develop a more consolidated Apprentice Scheme offer. We'll be holding a Cyber Security Apprenticeship networking event on 1st March, where I'm really looking forward to meeting our cyber professionals of the future. Look out for more on that.
GSPU is also reviewing pay and reward structures, and career pathways for security professionals. In addition, the team is developing a workforce plan for the profession that can help drive succession planning, a diversity strategy, and recruitment and talent needs.
The team is also developing a collaboration hub for the profession, and a tool for you to share best practice and network with your colleagues.
The GSPU skills and learning team has a busy 2018 planned too, including delivering a learning programme for the new Security Advisors (SAs) and Senior Security Advisors (SSAs), in addition to updating the profession pages on Civil Service Learning. We'll be providing pathways for those in the security community who wish to increase their cyber security skills. If there is anything in particular you would like to increase your knowledge on in this area, do let me know.
I'm anticipating a productive and successful year ahead for the profession and I'm looking forward to meeting as many of you as possible at the engagement events we will run throughout the year.
Jon Ashton, Head of Profession - Government Security